iTero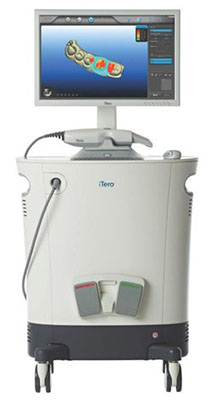 No more gagging with impressions !!!
We are proud to offer our patients the most advanced alternative to dental impressions. A digital impression-less system is one of the most recent innovations in our profession. Digital scanners have been used in Dentistry since 1998, but only in the last 3 years have digital impressions or 3D digital scans been available for Orthodontists. The introduction into orthodontics required a full arch scan with a bite relationship. The power of digital scans allows for any appliance to be fabricated from this digital image. The image does not change or distort over time and can be kept as a record for the future. We do not charge extra for this technology. We see it as a benefit to all our patients and a big step in the direction of digital orthodontics.
ClearView Orthodontics is now offering 3D digital impressions using the Invisalign iTero scanner. The scanner takes a digital 3D image of your upper and lower teeth for accurate and effective manufacturing of your Invisalign aligners, our indirect bonding trays, and appliances. The iTero 3D image is displayed in real-time as the impressions are being captured. This allows for real time evaluation of the image being created, more precise treatment planning and more accurately fitting appliances.
The 3D digital image eliminates the shipping process of your impressions to the lab. The 3D digital image is electronically sent to the lab and is available in the Invisalign Clincheck system the very next day for approval, eliminating weeks of wait time. The accuracy and detail of the iTero scan eliminates the need for messy impression material, retakes and the uncomfortable experience. We welcome all our patients to come in and experience the latest and greatest in digital orthodontics.
Benefits of Scanning
Eliminates impressions, the most un-liked procedure in orthodontic care.
Superior Accuracy with no distortion from patient movement during set, removal of impressions, disinfection, and temperature changes.
Real time Visualization allows for immediate adjustment to create the ideal orthodontic scan the first time.
Increased Patient Comfort by eliminating the goop and gagging with traditional impressions.
Faster turnaround time for Invisalign aligners, and appliances
More accurate impressions, leads to a better fitting appliances which are more comfortable for our patients.