Meet Dr. Charity Siu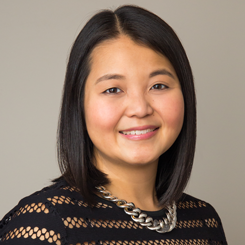 When you come to our office, we recognize that you are unique with respect to your concerns, motivations and goals for your orthodontic care. I am honoured to be one to assess you as a whole and make sure your needs will be met and my treatment will be valuable to you.  I will recognize your orthodontic concerns and discuss how different options can fit into your everyday life.  It is exciting for me each time to meet an individual with the hope of achieving a new and beautiful smile!
Professional Education
It is a privilege to have received the level of education required to be an orthodontic specialist.  This profession possesses qualities of sound ethics, evidence-based learning and treatment, care and generosity.  I received my Doctor of Dental Medicine (DMD) degree from the University of British Columbia, Department of Dentistry in 2001 and completed a two-year General Practice Residency (GPR) at the University of Washington, Department of Dentistry in 2003.  Then I attended the University of Rochester, Eastman Dental Center where I received my diploma in Orthodontics in 2005.  As a Certified Specialist, I am a fellow at the Royal College of Dentists of Canada since 2005.
Continuing Education
Dr. John C. Kois

Kois Center, Seattle Washington
Diagnosis and Treatment Planning, Functional Occlusion
Attendee, 77 hours, completed 2013


BC Comprehensive Dental Treatment Seminars

Vancouver
Various topics related to multidisciplinary dentistry
Attendee, 63 hours, each year since 2014

Drs. Ellen Park and Roxana Saldarriaga: Everyday Dentistry, Study Club

 Vancouver
 Restorative Dentistry
 Attendee, 24 hours, each year since 2015

CITED, Comprehensive Interdisciplinary Treatment and Education in Dentistry

 Vancouver
 Various topics related to multidisciplinary dentistry
 Mentor and Educator, 14 hours, each year since 2010

GEDA, Golden Ears Dental Alliance

Pitt Meadows
Various topic related to multidisciplinary dentistry
Mentor and Educator, 10 hours, each year since 2015

Spear Study Club

Vancouver
Curriculum provided by the Spear Education Campus
Mentor, 24 hours, each year since 2016

British Columbia Society of Orthodontists

Vancouver
Various topics pertaining to the practice of the specialty
Past President and attendee 2 hours each year, since 2005

Associate Clinical Instructor and Lecturer

University of British Columbia, Department of Dentistry
Undergraduate dental program, orthodontic sessions
Guest lecturer for graduate Prosthodontic
In the Community
I was born and raised in Vancouver and it is exciting to be working in my community.  I love to travel and have been to cities in Asia, Europe, South America and all over North America.  I enjoy playing softball as well as practicing yoga daily.  Most of the time, you will either find me cooking and enjoying good food with friends or shopping in the city's local boutiques.