ClearView Orthodontic Patient Policies for COVID-19
The health and safety of our patients, team members, and community is of utmost importance to us. We have established new protocols and are following the guidelines that the college of dental surgeons of BC and the BC public Health officers have developed. This includes adding medical grade air purifiers, sneeze guards, new cleaning protocols, and enhanced staff PPE.
As always, we follow strict guidelines for infection control.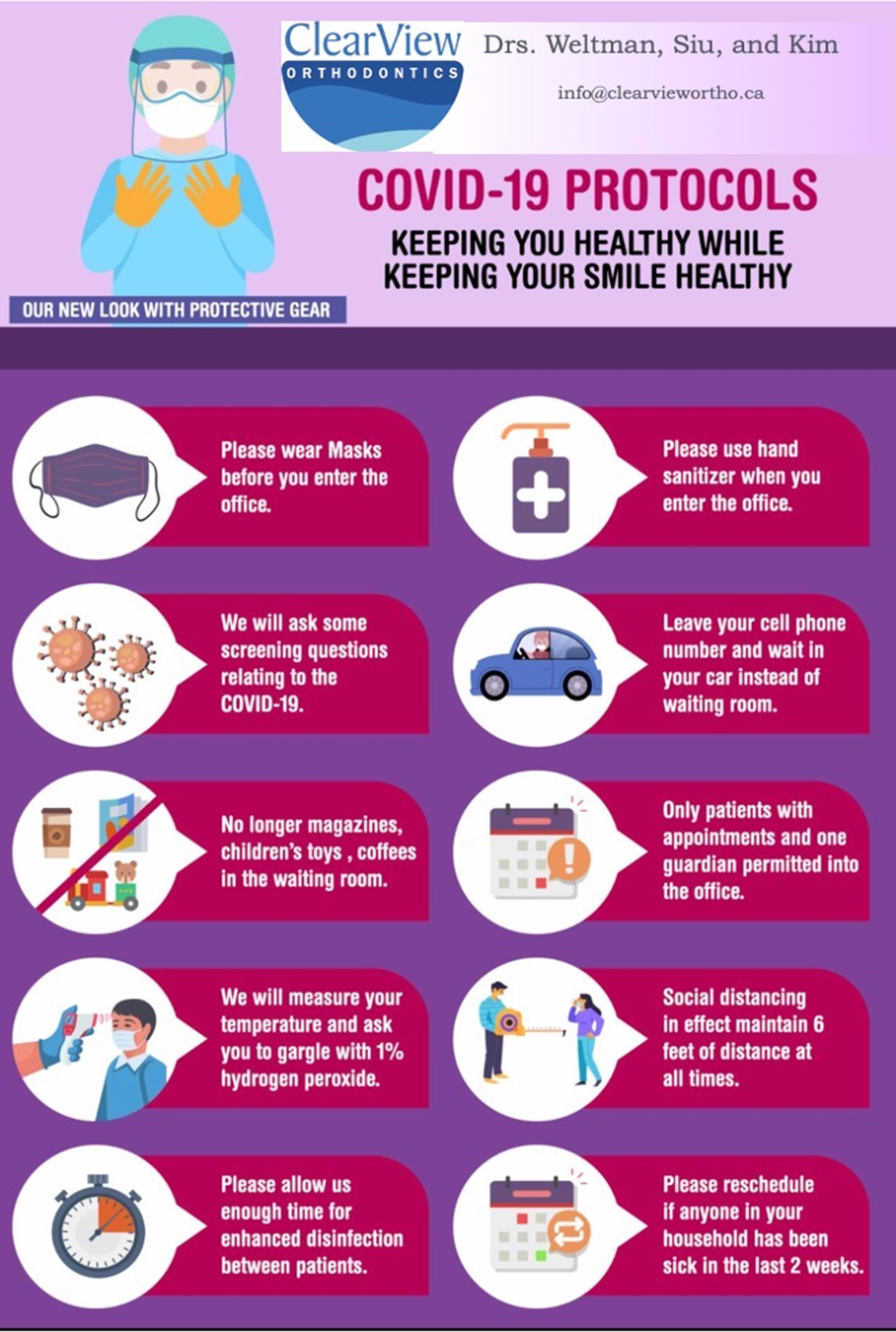 In addition to our already stringent disinfecting and sterilization procedures, we have added the following protocols, and here is what to expect at your next physical appointment:
To comply with our province's social distancing guidelines, we are asking that only appointed patients enter the office. If you are a new patient/minor, we request that only one accompanying adult be present for the appointment.

Patients/guardians are welcome to record/facetime during the appointment so those not present can observe if needed.
Parents are welcome to ask questions in advance of the appointment via text/e-mail and we are happy to provide updates, but that may be in the form of Email/Video/Text.

You will be asked to use hand sanitizer or wash hands thoroughly upon entering/exiting the office.
You will be asked to rinse with an antiviral mouthrinse before we begin working in your mouth.
Please brush and floss AT HOME BEFORE your appointment as we have closed our brushing stations in the clinic. Unfortunately, patients in braces will not be able to brush and floss with their wires out.
Please wear a cloth or disposable mask when you enter our office and after your appointment when you are interacting with our front office team (we will provide masks if needed)
We will be pre-screening all patients prior to each appointment.

If you use text appointment reminders (preferred) there will be a link in the reminder.
If you receive e-mail appointment reminders you will need to answer the responses in the e-mail and then send back to us prior to your appointment.

Patients who come into the office showing signs of illness/fever over 38C will be asked to reschedule their appointment, and we will be taking temperatures on entry.
We would like to minimize the handling of cash/credit cards in the office and use digital payments when possible. New patients will be asked to set up payment plans so that we can have contactless payments each month once set up.
We have upgraded our phone/SMS systems and now have 2-way texting available. We have created a virtual waiting room. Please check in from your car/the building lobby by texting 604-262-2401 to let us know you are here, and then WE WILL TEXT YOU to let you know that your treatment chair in clinic is ready to minimize the number of people congregating in our waiting room.
Upon reopening, we hope you can understand that we will be unable to maintain our previous schedule. Appointments will be more limited, due to being spread out and staggered, and to allow proper time to disinfect treatment areas between patients. Please be flexible with your appointment scheduling. We are trying our best to catch up, care for and accommodate all of our patients.
We greatly appreciate your patience during this time.